Restore Backups Anytime!
While you can contact our support team anytime to get help with a backup restore, we give you access to restore a backup of any file or directory yourself from our hosting control panel. Or, download your own backup of your site anytime.
Tools to Make You More Productive
Our hosting control panel has all the tools you need to manage a WordPress website, including a robust file manager and editor, backup controls, virus scanner, website visitor analytics and access to SSH, Git, WP-CLI, Python, Node.js and MySQL databases.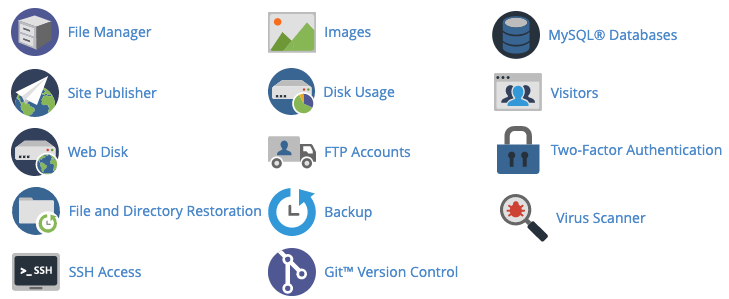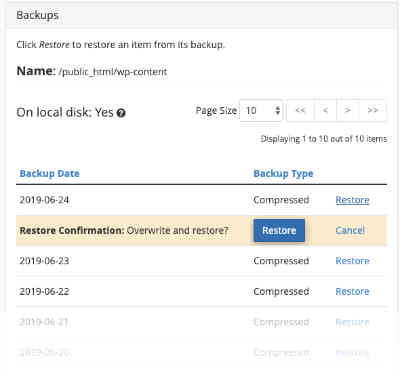 Powerful hosting with dedicated resources, redundant backups, super security and if our hosting isn't faster than your current provider, you can get your money back  for 30 days.
Amazing Hosting, Just for Divi
Our hosting plans are specifically engineered for Divi + WordPress, so you can expect top performance. Here's examples of features that come with Divi Friends hosting:
Super Secure
Our hardened servers block naughty traffic 24/7 and scan for attacks and malware. Should your site get compromised, we'll even clean it for you at no additional cost. Plus all websites come with a SSL certificiate included!
Ridiculously Powerful
With Divi Friends Hosting, you have dedicated resources available for your site in what's called a "container" meaning other sites can't hijack your reources and slow down your site. 
Free Website Transfer
Use our website transfer tool to get your site migrated to Divi Friends fast! 
Global Reach, Redundant Power
We have servers in datacenters strategically located for fast acces to customers in the US or Europe. These datacenters have backup generators and UPS power redundant power in the case of emergencies.
"No Worries" WordPress Updates
We will update your WordPress install and all plugins for you, no more wondering if you are up to date!
WAF (Web Application Firewall)
WAF options include Wordfence, Cloudflare and Stackpath, which proactively block hacking attempts on your site and monitor your WordPress install for old plugins that may introduce security risks.
Git Version Control
Love to develop with Git? We've got you covered!
Neurotic Backup Philosophy
We backup our servers daily both on and offsite to ensure that you are never left in a lurch if something goes wrong with your site! And restoring files only takes a few clicks in your hosting control panel.
Uptime Monitoring
We monitor for uptime and security. If there's a problem, we're on it!
Simple Staging
Need a staging version of your website to test something? No problem, it's only a few clicks away!
Managing WordPress installs has never been easier! 
From your Divi Friends control panel, you can see all your WordPress installs, have 1-click access to your WP Dashboard, perform updates, transfer your WordPress site  from another provider, restore backups, clone sites and more!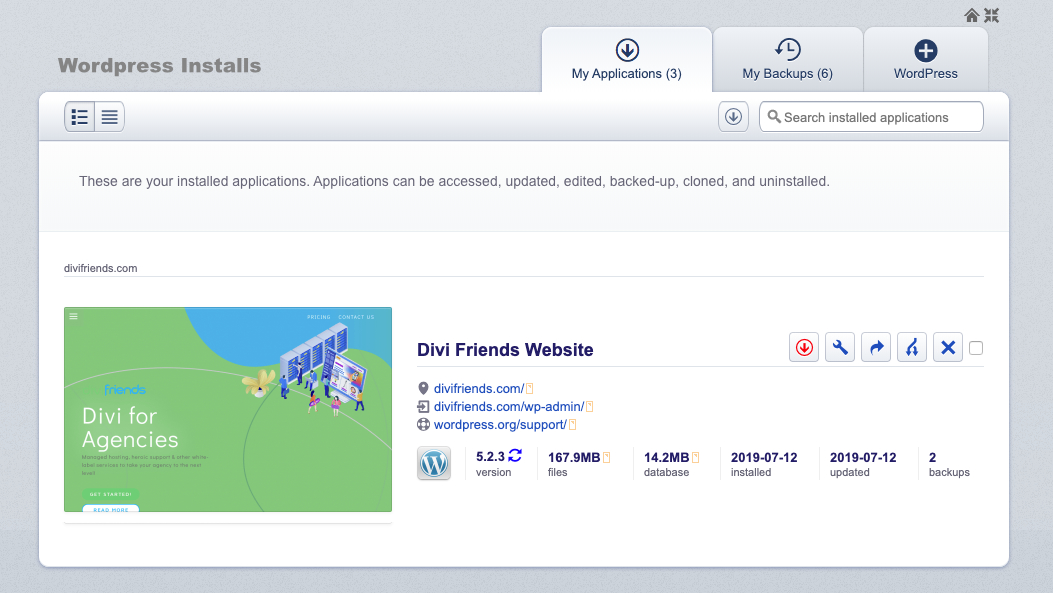 With 1 click you get WordPress, a Divi child theme and starter plugins to get your next Divi site built SUPER fast!
And after you use our 1-click WordPress installer with our Divi Starter pack, you'll have a brand new WordPress install, with a Divi child theme in place, as well as speed and security optimizations. We also preload the site with a few powerful plugins like Jetpack, WP Super Cache, Wordfence and Yoast SEO to get you up and running faster than the Flash on the CW Network.  Note, our hosting does not include the Divi theme and license so you still need to purchase that, but if you give us your license code, we'd be happy to install Divi for you.